Nuffnang Food Fest 2013
Hola! People... lol. Today i'm going to post about Nuffnang Food Fest 2013 which was held at Sunway Pyramid, Blue Entrance at 5th October 2013 from 4pm to 10pm. I know i kinda procrastinate this post because a lot of people already post about it but still i'm going to write about it today! lol.
First thing first on that day, registered at the Nuffnang booth for goodies and more information with an anticipated kinda feeling. lol.
These was what i got on that day after registered at the booth. A very cute and yummy macaroon from Les Macaroons and a Sunway Pyramid Card! I also heard that some people got power bank too but too bad i'm too late for that. lol. #noluckwithfreestuffs
It was only around 4pm and you can see the crowd. lol. Malaysian do like free food. Everyone reached so early just for food!
If you are wondering why all the people taking their mobile devices out before getting the free food? Well, this Food Fest was kinda special because WE TWEET TO EAT! lol. So social medias such as Facebook, Twitter and Instagram on that day were the only way for you to get your food. lol.
Can you see?!! SO many people! There were a lot of booths on that day including Crazy Potato, Burger Lab, Chatime and so on. For your info, some of them served small portion of food and some of them served original size of food!
My sis and I decided to grab the New Zealand Natural ice cream first because the weather was so hot on that day. Not to mention the ice cream melted so fast because of the weather... lol.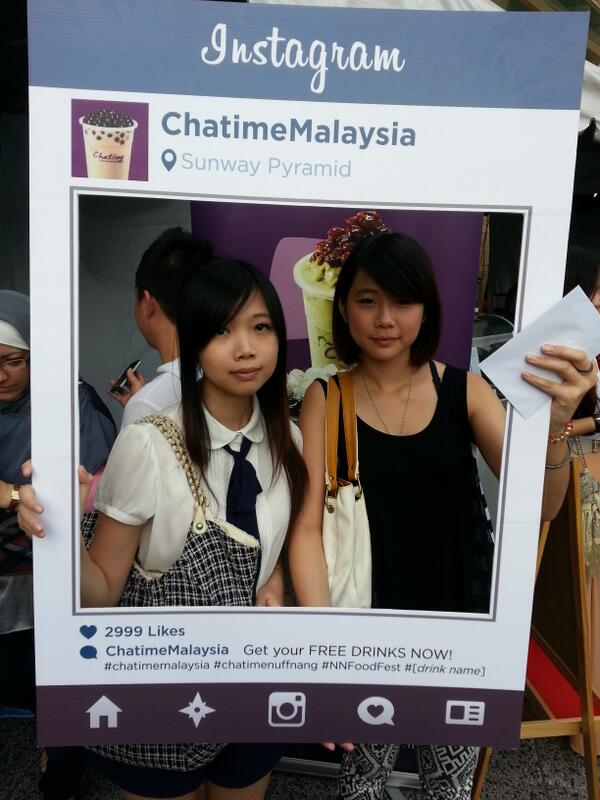 Then we went to grab some drinks from Chatime. They requested us to hold the Instagram frame and pose for photos to exchange for drinks. lol.
We actually got some different flavors. I remembered i asked for pear flavor tea but they gave me ice lemon tea. lol. Well, it was okay then because the drink was nice. lol.
Then my sis said wanna try Crazy Potato, then we went to the booth and started queuing. lol. Never expect they will served the full size french fries. No wonder so many people queuing.
Yummy Crazy Potato~
Met Kahmon and her bf that day. lol.
Also i met Audrey and Timothytiah on that day.
(Why my face looked so chubby? lol )
Got this photo at the photobooth too with my sister! lol.
To be sincere, i did not took many photos on that day because my hands were full with drinks and food. lol. I only managed to take out my phone for photos when my hand is empty. lol. Forgive me for the lack of photos. lol.
It was a totally special experience during Nuffnang Food Fest. It was a very creative yet great event that provide free food for people. lol. I wished they will hold more similar events in the coming future. lol.
xoxo.
If you all wanna...